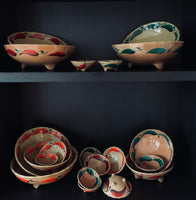 <transcy>Mexican pottery from Central Mexico</transcy>
This hand-painted tradition, which dates back to the 16th century, has found its way back into contemporary Mexico through Spanish influences. The fine natural clay still present in large quantities makes it possible to continue this colorful handmade pottery for years to come.
Whole families from generation to generation have worked and painted these baking dishes, vases, etc. This honest little craft remains in the "familia" and does not disappear in large industrial projects.
Bowls
The bowls from Casa De Regalo come in different shapes and sizes. You can buy bowls with peppers or traditional paintings from Central Mexico.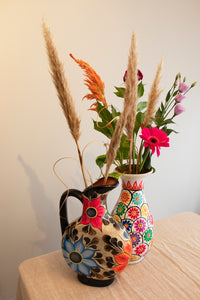 Vases
Casa De Regalo sells different types of vases made with traditional paintings from Central Mexico.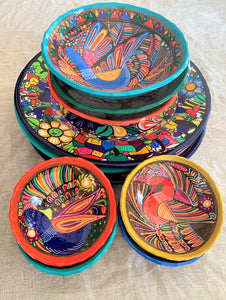 Plates
The plates at Casa De Regalo are like works of art that you can eat from. You can also hang the plates as a work of art!
<transcy>Featured collection</transcy>
What a beautiful service. Even more beautiful than I expected!

<transcy>Stella</transcy>
You really notice that everything is handmade. Incredibly beautifully made down to the last detail.

<transcy>Hendrik</transcy>
I am so happy with my new vase! Top service for a very reasonable price.

<transcy>Lotte</transcy>